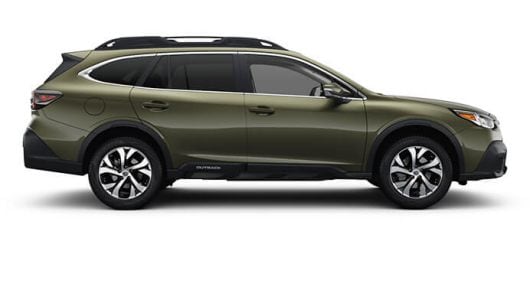 The brand-new 2020 Subaru Outback has every feature you need to pack up and head out on the road in Tehachapi with the family. You'll stop the show with power and presence in this boldly designed Subaru. It's built to handle any conditions and keep your family safe and comfortable. This SUV is capable of supporting large families while maintaining 75.7 cubic feet of cargo space, and the legroom is unbelievable.
Subaru has rolled out this edition with a selection of deep earth tone options to fit the spirit of adventure that you'll feel as soon as you take a seat. The interior comes with cloth color options and Ivory or Nappa leather options in select trims.
Exciting Performance and Features
You'll be capable of going anywhere in your new Subaru Outback with the 18-inch alloy wheels they've installed, and you'll get max traction and feel completely in control with all-wheel drive. Your new subaru vehicle will be equipped with the world's best technology features, which are the standard for Subaru across the board.
The standard Eyesight feature will gently assist you when driving to minimizing the likelihood of accidents, and you'll love the technology because you don't lose your control while knowing your loved ones are fully protected on your drives. Raised roof rails with crossbars allow for simple and secure tie-downs, so feel free to bring the bikes along without worry.
Comfortable Drives Around Bakersville
This model was built with maximum comfort in mind. You'll receive the option of heated front seats in the Subaru Outback Premium trim, and the Touring trim has this coupled with heated steering for comfortable winter driving. Of course, you'll want to enjoy some family conversation with the family, but you can rest and fill your cabin with some of the family's favorite tunes with the Subaru Starlink multimedia system.
This system is multi-compatible, so you'll be able to enjoy Apple CarPlay and Android Auto to listen to your favorite playlists on-demand hands-free. With the 12-speaker, 576-watt Harmon Kardon sound system in the Subaru Outback Limited trim, you'll be able to blast your favorite artists. And the hands-free power rear-gate makes for easy unloading of travel luggage when you finally reach your chosen destination.
Impressive Safety Features in the Subaru Outback
The 2020 Subaru Outback wants all who have the luxury of riding in its cabin to feel completely at ease knowing that they're riding with world-leading safety features, and you can rest assured that they'll be taken care of as they set off on their adventures. Every trim of the Subaru Outback has the Subaru Starlink Safety and Security feature installed, which allows users to call for roadside assistance in the event of an emergency. The system will also alert authorities of your location in the event of an accident.
The tires on this SUV are let drivers know that they'll be safe on any road, but it's the Hill Descent Control that solidifies this belief. You won't experience any rollback as the SUV braces for hills ahead, and you'll feel the power your vehicle contains as you go whizzing through any valley. Distractions are minimized with Driver Focus technology, which allows you to keep noise and other distractions out to keep you focused on the road at all times. The Touring XT trim offers a 180-degree front view monitor so you can see all sides of the SUV at any time of day.
Starlink Navigation is installed in the Touring trim of Subaru Outback, so if you plan on going far out, you'll love this super accurate system. Additionally, you can enjoy push-button start in this design for quick and easy, keyless access.
Visit Sangera Subaru to Learn More
If you'd like to learn more about the new 2020 Subaru Outback, we encourage you to visit our Sangera Subaru in nearby Bakersfield near Frazier Park and Delano. You can easily take a test drive of this exciting model to try out all of its unique features in person. We look forward to working with you soon!