The 2021 Subaru Love Promise Customer and Community Commitment Award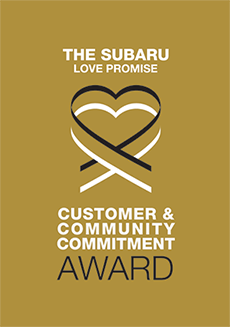 We've been nationally recognized for our dedication to our customers, our community, and the Subaru Love Promise.
We're honored to receive the 2021 Subaru Love Promise Customer and Community Commitment Award. This award nationally recognizes elite Subaru retailers who provide an exceptional customer experience at every interaction with Subaru. These retailers have also demonstrated an outstanding commitment to supporting passions and causes in their local communities in important areas such as the environment, community, health, education, and pets.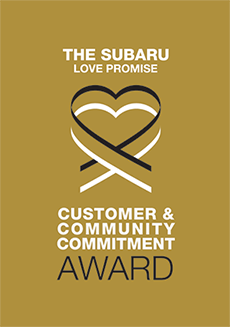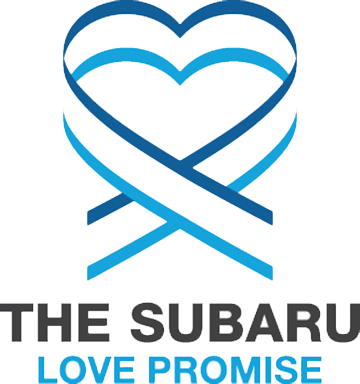 What is the Subaru Love Promise?
Subaru and our retailers believe in making the world a better place and the Subaru Love Promise is our vision of respecting all people. This is our commitment to show love and respect to our customers and to work to make a positive impact in the world.
How is Sangera Subaru dedicated locally to the Love Promise?
At Sangera Subaru we believe in supporting and giving back to the community that drives us. We do this through our partnerships with community nonprofits and charities that work for the greater good. Sangera Subaru directly donates time money or goods and/or aids in directing funds to these organizations through the help of Subaru of America. It is through these efforts that Sangera Subaru helps to build a stronger healthier community here in Kern County. We believe in being a positive force in something bigger. And it all starts right here in our community. Not just by our donations, but by our actions. That's why we stay true to our Love Promise Community Commitment by partnering with a wide variety of community nonprofits and charities. Every year, we join hands with our owners in the "Share the Love" event, giving back to our community. Every day, we strive to ensure our love is felt not just by our customers, but by all in our community. We do this because we feel it is the right thing to do. We are proud to participate in the Love Promise Community Commitment. We're grateful, not only to be a part of our community, but to serve and support the causes and passions that are closest to our hearts, right here in our neighborhood. We welcome you to become part of the Sangera Subaru Family and be proud of the businesses you choose to support. Below is a listing of our local and regional partners that we encourage you to explore further.
Pet Matchmaker, H.A.L.T. Rescue, Have a Heart Humane Society
Covenant Coffee, NOR Meals on Wheels
AIS Cancer Center, Leukemia & Lymphoma Society, American Cancer Society, Inc. , West Region
Love Promise Stories from Sangera Subaru
Subaru and Sangera Subaru believe in making a positive impact on the communities in which we live and work. We uphold that belief through our Love Promise Community Commitment. Every month, we select inspiring stories from customers and partners from around our area who strive to support our collective commitment and feature them here
Keeping it in the family - Vinny O
Going on my 3rd Subaru Crosstrek and loved every one, and a few weeks ago my son 22 bought his first new car a 2021 Subaru Crosstrek same color as mine. He seems to be waking up in disbelief that the car outside is his and can't wait to do his personal touches to it. Thanks Subaru can't wait till I get my next one.
---
Howl-O-Ween - Hassan H
In the spirit of Halloween and Subaru Loves Pets, we decided to put an event together called Howl-O-Ween. We partnered with Pet Matchmaker Rescue and sponsored the event where we would show 2 movies on Friday, October 30th. Of course, we encouraged all our customers to bring their pets dressed in their best Halloween costume. Everyone that participated in this event donated $5.00 as an entry fee and all of the proceeds from that night would go to Pet Matchmaker Rescue. This event was a great way for us to showcase another local charity & help Pet Matchmaker Rescue find homes for these pets needing adoption.
---
Kicks for Kids / Victory Family Services - Hassan H
Sangera Subaru will be running a jacket and coat drive through November 1st- 28th. We will be partnering with Kicks for Kids & Victory Family Services to benefit the foster youth that are less fortunate. We decided to partner with Kicks for Kids and Victory Family Services as they have a large impact on our local community. Our goal is to donate as many jackets and coats as we can and spread the word to our local community that these children need our help especially during these hard times. Even though our Jacket and Coat Drive will end on November 28th, we are happy to announce that Sangera Subaru will continue our commitment to help our local community by adding Victory Family Services as a hometown charity for 2020.
---
Above and Beyond! - Doris B
I just wanted to acknowledge and thank your staff at Sangera Subaru for outstanding customer service. I am a Subaru customer and purchased my Forester at Sangera in 2014. There was a recall a few months ago for my make/model covering rear coil springs. Because I'm 73 years old and also because of Covid-19, I was going to wait to bring my vehicle in for servicing. Another factor is that fact that I live in Springville (approx. 70 miles from your dealership). It's not the end of the world, but it's a long trip for a senior and a scary one at this point in time. Your Service Manager, David Bailey, made an exception in my case and arranged to have my car picked up and delivered back to me. I initially declined his offer because of the fact that I live in the foothills of the Sierras and there's a high wildfire danger here and could not be without a vehicle, "just in case". Most dealerships would have left it at that and then waited for me to bring my vehicle to them. However, Mr. Bailey arranged to leave a loaner vehicle for me while your service personnel made the necessary repairs on my Forester. In my way of thinking, this was WAY above and beyond good customer service, and I can't thank him enough for the kindness and concern shown to me. I'd also like to thank the woman who initially phoned me (I never got her name) and Stephen Hudis (Service Consultant). The woman who phoned me got the ball rolling and spoke to Mr. Bailey on my behalf. Steve Hudis kept me abreast of everything that was happening to my Forester from the initial pickup/drop off to the final drop off/pickup, all within 24 hours. Frankly, I'm astounded at the level of service and caring shown by your staff and it's just one of the many reasons I own a Subaru and I ONLY use Sangera Subaru for my major servicing. Please give your staff many kudos and thanks for everything they did. I am very grateful and a mere "thank you" just doesn't seem enough. You certainly know how to pick your staff! Very Truly Yours, Doris Bechard - Customer for Life
---
Love my blanket - T E
I received this almost two years ago. Sorry it's taken me so long to post about it. As I was doing radiation, my mother was diagnosed with terminal cancer. And about six months later she passed away. This blanket and words mean a lot to me. I still sleep under this blanket every night and have from the day I revived it. Thank you, and I don't post on social media, but wanted to say thank you. I know I don't have the words to describe, how much it means to me.
---
Warming Hearts With Subaru Blanket Deliveries - Tamar K
Sangera Subaru and the Central California chapter of The Leukemia & Lymphoma Society (LLS) have partnered to make a difference in the lives of people battling cancer in the Bakersfield community for the third year in a row. Through the Subaru Loves to Care program we were able to provide beautiful blankets, kids' craft kits and inspiring messages of hope from Subaru customers to patients fighting cancer at AIS Cancer center. Rosario Hernandez Ortiz, Lead Community Outreach at AIS Cancer Center shares the true impact these visits and generosity have. "We always appreciate that Segura Subaru and LLS consider us as recipients of such beautiful blankets. Our patients just love those blankets! They bring them so much comfort!" As we met Talia from Sangera Subaru at the entrance, she shared how excited they were to be participating and felt so fortunate to be able to help. The excitement of this partnership continued as we dropped blankets in various areas, you could see the nurses and staff's faces light up realizing that the blankets were back. The echoes of excitement and appreciate ring across the halls as we made our way through the facility. A huge and heartfelt thanks to Damon, Hasan, Talia and the Sangera Subaru for supporting LLS and all the patients in our community.
---
Cheers to Sangera Subaru! - Marybeth G
Tehachapi is a small town in the mountains above the bustling city of Bakersfield, California. It is the kind of community where everybody knows everybody and "community" is not just a definition - it is a way of life. People genuinely care about their neighbor … and their neighbor is all around them. Every year, Cheers to Charity - a seven-member, nonprofit organization supported by Sangera Subaru of Bakersfield, raises money to help dozens of other nonprofit agencies assisting residents - battling cancer, poverty, joblessness, human trafficking, special needs, Veteran services and more. In short, Cheers to Charity raises money to give away to other small organizations doing good things for, and in, the place we all call home. These agencies typically do not have the time, nor ability, to raise significant funds. Here is what we do: Annually, the Cheers to Charity committee organizes a "night on the town" fundraiser. The evening features amazing food, fine wines, craft and home-brewed beer, a one-of-a-kind cigar lounge, music and dancing, a silent auction, a photo booth and much more. This must-attend event requires hundreds of volunteers (of which Sangera Subaru employees participate) and has raised and distributed more than $150,000 into the community – in just five years. Not too bad for a small town. Cheers to Charity has funded: playground equipment for children with special needs; wheelchairs and transportation for residents fighting cancer; clothing and equipment for teenagers attending after-school programs; Christmas presents for kids in the foster care system; a way forward for adults trapped in human trafficking and much, much more. Every donation changes the life of someone we know, someone we care about, someone that matters. Therefore, the committee plans and prepares, asks and receives, commits for the long run with both business partners and community partners … to make a visible difference. Some might ask why a dealership in Bakersfield supports a community in the mountains. For us, the answer is easy … one drive through Tehachapi and you will see that our community drives Subaru vehicles. We feel as connected, to Sangera Subaru, as Sangera Subaru feels to us. On the Sangera Subaru website, it reads: "We are proud to participate in the Love Promise Community Commitment. We are grateful, not only to be a part of our community but also to serve and support the causes and passions that are closest to our hearts, right here in our neighborhood. All of the organizations we support have one thing in common: the unwavering dedication to improve the world and the lives of its people." We are proof positive of that commitment. Without their support, our success would be less and our impact would be diminished. We are thankful. We are proud. We are excited about the year ahead. This year, let us join hands and make a most meaningful difference - yet again! Cheers to Sangera Subaru!
---
Holiday Meal & Christmas Gala Share the Love Event - Lilli J P
Bakersfield Senior Center, Inc., (BSC) is a 501(c)3 non-profit with a mission to help improve the health and well-being of low-income, under-served seniors, and veteran's lives, by providing them access to better health services and nutrition so that they can live long and strong healthy lives! As members of Meals on Wheels America we provide more than a meal, we provide our souls when providing meals, events, activities, education presentations on nutrition and health. In Kern County, our at-risk population is our elderly and seniors along with children in large families. Food insecurity and access to healthcare are the biggest social determinants affecting Kern County, based upon a number of factors such as isolation, high poverty rate, homelessness, and transportation. In great appreciation of exceptional service, support and commitment, Sangera Subaru partnered with BSC for the 2018 Subaru Share the Love Event for a second year to help fight hunger and isolation amongst our elderly. This year over 200 Subaru bags were provided by Subaru for our Holiday Meal Share the Love event. We handed out over 103 Holiday Meals that included turkeys, and all the amenities for a full dinner. Subaru made sure those bags got to BSC in time for the volunteers and staff to fill them with the food the morning of the event. On Friday, December 21, 2018, BSC had a second event where we invited Sangera Subaru representatives to be our guest speaker to speak about Subaru Share the Love event, to approximately 66 attendees from the community at large at the Christmas Gala Share the Love event. This event included a Tri-Tip dinner, Best Dressed Male and Female contest, entertainment from Wendell "Music Man" Moore from Los Angeles, and dancing. Everyone enjoyed themselves and was especially grateful when they all left the event with Subaru bags filled with holiday treats. Thank Sangera Subaru, for all your help, support and commitment to the Bakersfield community.
---
Sharing Hope One Blanket At A Time - Tamar K
One of the greatest parts of teaming up with Sangera Subaru for blanket deliveries is getting to meet and connect with members of the community we might not have otherwise not have had the chance to connect with. What we learned about Sangera Subaru is how caring the entire staff was. When we met them at the dealership, the whole team went above and beyond to help us load the cars and head over to the AIS Cancer Center. After loading up the cars, Sangera Subaru helped us deliver the blankets at AIS Cancer Center. We had the chance to visit with patients and their families in the waiting room. As we passed out blankets, you could see their faces light up with joy and hope getting the blankets. Thank you Sangera Subaru for being such generous supporters in our community
---
Sharing the love for a cure! - Sheila V
I have bought 2 cars from Bakersfield Subaru, and have brought my father in to buy one from Thomas Owens. Thomas always makes us feel like old friends. From start to finish through financing I walked away feeling like I made the right choice! Love my car, my salesman Thomas, and the dealership. Last week, end of May 2018, was driving by and stopped to ask if the dealership could donate prizes for our local poker run to raise money for Relay for Life Tehachapi,and the fight against cancer. Because of their generous donation along with others, Big Papa's Steakhouse's June 2nd, 2018, 3rd annual poker run was a huge success! Subaru of Bakersfield thank you for always showing the LOVE! Subaru owner for life! Love my car! Sincerely, Sheila Villarreal and Big Papas Steakhouse!
---
Sangera Subaru Provides for Scleroderma Patients - Hassan
Sangera Subaru partnered up with the Scleroderma Foundation, Southern California Chapter to gain awareness of this disease and help spread the love to patients living with this disease. Scleroderma is an auto-immune disease that causes the body to stiffen due to an overproduction of collagen. This collagen build up can effect the entire body inside and out, including all the internal organs and connective tissue as well as the skin. To date, Scleroderma is the most fatal of all auto-immune diseases and affects more than 300,000 people in the U.S. Our mission is to save lives and CURE Scleroderma through programs committed to Research, Support, Education and Advocacy. Sangera Subaru and the wonderful people that work there stepped up to the challenge and joined us in this fight by bringing awareness to the disease and help support every aspect of our mission. More people than ever now know about the disease and the Foundation. This commitment is what sets our local Subaru apart form all the rest. With a warm heart THANK YOU Hassan, Nick, Damon and the rest of the Team at Sangera Subaru!
---
A Partnership of Hope - Randy M
Covenant Coffee is a social enterprise of Covenant Community Services (Covenant). At Covenant, our mission is providing hope and love to abused and neglected children. Through partnership with caring individuals, giving corporations, faith communities and generous volunteers, we are restoring shattered lives and transforming generations. Covenant is excited to share about how Sangera Subaru is fullfilling their love promise. In September of 2015, Sangera Subaru provided a delivery car for our coffee company. This beautifully wrapped Impreza will enable former foster youth to work as delivery drivers, practice for drivers license tests, and make service calls to offices, cafes and restaurants. One of the hashtags on the Covenant Coffee Subaru is #hopeinacup. Sangera Subaru has lived up to their "love promise" by caring for the community and for former foster youth. The sponsorship of a vehicle is more than a tangible method of "giving". The sponsorship and partnership gives hope as it proclaims to foster youth that the community cares ... that Sangera Subaru cares! This generous partnership speaks loudly and clearly of the community commitment and fulfillment of the "love promise" by Sangera Subaru. We proudly drive a Subaru and will share this story at every event on our journey of hope!
---
North of the River Meals on Wheels Project - Mishelle U
The North of the River Meals on Wheels project is designed to deliver meals to homebound seniors in the greater Bakersfield area. Monday through Friday, meals are provided to approximately 250 seniors who require assistance with one of life's most basic needs: food. These meals provide sufficient sustenance for those whom would otherwise be unable to provide this for themselves, thus significantly decreasing some of the major health issues associated with poor nutrition. While the program touts food, "Meals on Wheels", that is only one facet of the program. Our drivers are in many cases, the only connection to outside services. Homebound seniors are often over looked, and their problems may go unheeded. Daily delivery of balanced meals provides a unique opportunity for this growing senior community to interact with our drivers on a consistent basis. This provides informal daily checks with the program participants and acts as a conduit of information for a variety of services within the community. We communicate with the families or other emergency services should the need arise. Although the program name suggests it is primarily a food delivery program, Meals on Wheels is so much more; Contact, interaction and communication. Reminding those that have been locked away from society that they not been forgotten and have value in our world.
---
Have Trailer Will Travel - Chelley K
Even in far-away Tehachapi (45 minutes from Bakersfield) we knew about Subaru's Share The Love advertising. So, I contacted Sangera Subaru about a 5k run we are having on Oct. 5 to support spay/neuter efforts in Tehachapi. I got a call from Hassan and picked up a check from him. I also introduced him to a puppy I had just bought off a pan-handler in Bakersfield while at a meeting to stop animal abuse. Hassan fell in love with the puppy and named him - Subie! For Subaru. Hassan invited our organization to Sangera's Customer Appreciation Day on Sept. 12, 2015. We brought our adoption trailer and 6 dogs. It was an incredibly hot day but the event went really well and we adopted 3 of our dogs to Sangera employees! One of those is Subie! We are very excited to have our little Subie going to a Sangera employee.
---
Sangera Subaru helps athletes with scholarships. - Bert P
We are very honored to have Sangera Subaru help us, a local youth soccer club, by providing scholarships to youth soccer players aspiring to go to college. With Subaru's help, young athletes are given the chance to play and be seen by college and professional scouts and have an opportunity to continue their education and develop into outstanding adults. Without the help of organizations, like Sangera Subaru, these young athletes would not have this chance. Thank you Sangera!!!
---