The 2021 Subaru Love Promise Customer and Community Commitment Award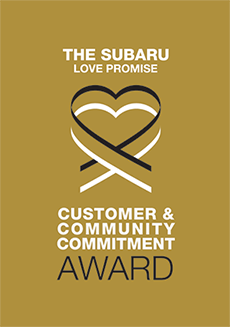 We've been nationally recognized for our dedication to our customers, our community, and the Subaru Love Promise.
We're honored to receive the 2021 Subaru Love Promise Customer and Community Commitment Award. This award nationally recognizes elite Subaru retailers who provide an exceptional customer experience at every interaction with Subaru. These retailers have also demonstrated an outstanding commitment to supporting passions and causes in their local communities in important areas such as the environment, community, health, education, and pets.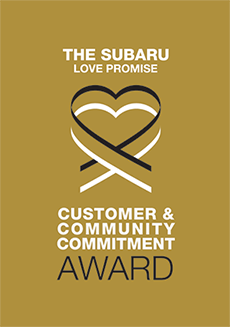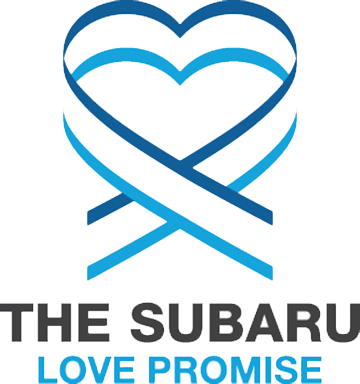 What is the Subaru Love Promise?
Subaru and our retailers believe in making the world a better place and the Subaru Love Promise is our vision of respecting all people. This is our commitment to show love and respect to our customers and to work to make a positive impact in the world.
How is Sangera Subaru dedicated locally to the Love Promise?
At Sangera Subaru we believe in supporting and giving back to the community that drives us. We do this through our partnerships with community nonprofits and charities that work for the greater good. Sangera Subaru directly donates time money or goods and/or aids in directing funds to these organizations through the help of Subaru of America. It is through these efforts that Sangera Subaru helps to build a stronger healthier community here in Kern County. We believe in being a positive force in something bigger. And it all starts right here in our community. Not just by our donations, but by our actions. That's why we stay true to our Love Promise Community Commitment by partnering with a wide variety of community nonprofits and charities. Every year, we join hands with our owners in the "Share the Love" event, giving back to our community. Every day, we strive to ensure our love is felt not just by our customers, but by all in our community. We do this because we feel it is the right thing to do. We are proud to participate in the Love Promise Community Commitment. We're grateful, not only to be a part of our community, but to serve and support the causes and passions that are closest to our hearts, right here in our neighborhood. We welcome you to become part of the Sangera Subaru Family and be proud of the businesses you choose to support. Below is a listing of our local and regional partners that we encourage you to explore further.
Pet Matchmaker, H.A.L.T. Rescue, Have a Heart Humane Society
Covenant Coffee, NOR Meals on Wheels
AIS Cancer Center, Leukemia & Lymphoma Society, American Cancer Society, Inc. , West Region
Love Promise Stories from Sangera Subaru
Subaru and Sangera Subaru believe in making a positive impact on the communities in which we live and work. We uphold that belief through our Love Promise Community Commitment. Every month, we select inspiring stories from customers and partners from around our area who strive to support our collective commitment and feature them here
T-Town Ride - Hassan H
2021 saw a scaled down version of the annual Tehachapi GranFondo event with the T-Town Ride. Due to all the event shutdowns in 2020 due to Covid, the GranFondo was one of the events that were cancelled. On September 25th the Tehachapi Valley Recreation and Parks District (TVRPD) broke out with a scaled back version of the event called the T-Town Ride. The event offered two courses, an18 mile and a 40 mile. The routes covered areas of town, going through Golden Hills, Alpine, Stallion Springs, and Cummings Valley. All participating riders received a Swag bag, finisher's medal, chip timing service, and ride technical tee-shirt. Sangera Subaru was one of 4 corporate sponsors of this year's event. As the Safety Sponsor, we were dubbed as the official pace car that led out the pack of riders down Tehachapi Blvd to begin the courses. This year's vehicle was a Forester Sport. Although the T-Town ride was a smaller event, you could see the passion in both the riders and the TVRPD committee that worked so hard to put on this event. The Tehachapi GranFondo will be back in the fall of 2022. The event draws riders from all over the western United States to the community of Tehachapi, located just 40 miles east of Bakersfield. Details of the 2022 event will be available in January of 2022.
---
The SNIP Bus - Hassan H
On September 19, 2021, Sangera Subaru is hosting and supporting Snip, Mobile Spay and Neuter clinic at the dealership. The SNIP Bus (Spay Neuter Imperative Project) is a 501(c)(3) low-cost mobile spay and neuter clinic. The bus works to actively prevent the suffering and death of unwanted animals due to overpopulation. The bus is independently funded through generous sponsors. Be part of the solution, Join the Spay & neuter revolution!!!
---
Cheers for Charity 2021 - Hassan H
Sangera Subaru ALWAYS comes through to help others. This is true once again this year, especially in a year that has hampered many charities because of Covid. Cheers for Charity is a Charitable, fundraising event featuring vibrant music, fantastic food, award-winning wines and expertly crafted beer beneath the canopy of a beautiful August evening in Tehachapi. Features mouth-watering tapas, wonderful wines, and skillfully made craft and home-brewed beers, Cheers to Charity raises money for local non-profit organizations to help dozens of other nonprofit agencies assisting residents - battling cancer, poverty, joblessness, human trafficking, special needs, Veteran services and more. In short, Cheers to Charity raises money to give away to other small organizations doing good things for, and in, the place we all call home. These agencies typically do not have the time, nor ability, to raise significant funds. Thank you Sangera Subaru for helping once again!
---
Sangera Subaru Blood Drive - Hassan H
Sangera Subaru is Bakersfield's Subaru dealership and a member of the Sangera Automotive Group. On September 23, 2021, Sangera Subaru hosted their 4th annual Blood Drive. Our incredible staff at Sangera Subaru were first in line to donate their blood, supporting Houchin Blood Bank. There was also an overwhelming turnout from members of the Bakersfield community, coming to Sangera Subaru to support this charitable cause. With the help of our Kern County residents, and Houchin Blood Bank we were able to help fill the local blood banks with resources to help patients who are in dire need of blood!
---
Keeping it in the family - Vinny O
Going on my 3rd Subaru Crosstrek and loved every one, and a few weeks ago my son 22 bought his first new car a 2021 Subaru Crosstrek same color as mine. He seems to be waking up in disbelief that the car outside is his and can't wait to do his personal touches to it. Thanks Subaru can't wait till I get my next one.
---
Howl-O-Ween - Hassan H
In the spirit of Halloween and Subaru Loves Pets, we decided to put an event together called Howl-O-Ween. We partnered with Pet Matchmaker Rescue and sponsored the event where we would show 2 movies on Friday, October 30th. Of course, we encouraged all our customers to bring their pets dressed in their best Halloween costume. Everyone that participated in this event donated $5.00 as an entry fee and all of the proceeds from that night would go to Pet Matchmaker Rescue. This event was a great way for us to showcase another local charity & help Pet Matchmaker Rescue find homes for these pets needing adoption.
---
Kicks for Kids / Victory Family Services - Hassan H
Sangera Subaru will be running a jacket and coat drive through November 1st- 28th. We will be partnering with Kicks for Kids & Victory Family Services to benefit the foster youth that are less fortunate. We decided to partner with Kicks for Kids and Victory Family Services as they have a large impact on our local community. Our goal is to donate as many jackets and coats as we can and spread the word to our local community that these children need our help especially during these hard times. Even though our Jacket and Coat Drive will end on November 28th, we are happy to announce that Sangera Subaru will continue our commitment to help our local community by adding Victory Family Services as a hometown charity for 2020.
---
Above and Beyond! - Doris B
I just wanted to acknowledge and thank your staff at Sangera Subaru for outstanding customer service. I am a Subaru customer and purchased my Forester at Sangera in 2014. There was a recall a few months ago for my make/model covering rear coil springs. Because I'm 73 years old and also because of Covid-19, I was going to wait to bring my vehicle in for servicing. Another factor is that fact that I live in Springville (approx. 70 miles from your dealership). It's not the end of the world, but it's a long trip for a senior and a scary one at this point in time. Your Service Manager, David Bailey, made an exception in my case and arranged to have my car picked up and delivered back to me. I initially declined his offer because of the fact that I live in the foothills of the Sierras and there's a high wildfire danger here and could not be without a vehicle, "just in case". Most dealerships would have left it at that and then waited for me to bring my vehicle to them. However, Mr. Bailey arranged to leave a loaner vehicle for me while your service personnel made the necessary repairs on my Forester. In my way of thinking, this was WAY above and beyond good customer service, and I can't thank him enough for the kindness and concern shown to me. I'd also like to thank the woman who initially phoned me (I never got her name) and Stephen Hudis (Service Consultant). The woman who phoned me got the ball rolling and spoke to Mr. Bailey on my behalf. Steve Hudis kept me abreast of everything that was happening to my Forester from the initial pickup/drop off to the final drop off/pickup, all within 24 hours. Frankly, I'm astounded at the level of service and caring shown by your staff and it's just one of the many reasons I own a Subaru and I ONLY use Sangera Subaru for my major servicing. Please give your staff many kudos and thanks for everything they did. I am very grateful and a mere "thank you" just doesn't seem enough. You certainly know how to pick your staff! Very Truly Yours, Doris Bechard - Customer for Life
---
Love my blanket - T E
I received this almost two years ago. Sorry it's taken me so long to post about it. As I was doing radiation, my mother was diagnosed with terminal cancer. And about six months later she passed away. This blanket and words mean a lot to me. I still sleep under this blanket every night and have from the day I revived it. Thank you, and I don't post on social media, but wanted to say thank you. I know I don't have the words to describe, how much it means to me.
---
Warming Hearts With Subaru Blanket Deliveries - Tamar K
Sangera Subaru and the Central California chapter of The Leukemia & Lymphoma Society (LLS) have partnered to make a difference in the lives of people battling cancer in the Bakersfield community for the third year in a row. Through the Subaru Loves to Care program we were able to provide beautiful blankets, kids' craft kits and inspiring messages of hope from Subaru customers to patients fighting cancer at AIS Cancer center. Rosario Hernandez Ortiz, Lead Community Outreach at AIS Cancer Center shares the true impact these visits and generosity have. "We always appreciate that Segura Subaru and LLS consider us as recipients of such beautiful blankets. Our patients just love those blankets! They bring them so much comfort!" As we met Talia from Sangera Subaru at the entrance, she shared how excited they were to be participating and felt so fortunate to be able to help. The excitement of this partnership continued as we dropped blankets in various areas, you could see the nurses and staff's faces light up realizing that the blankets were back. The echoes of excitement and appreciate ring across the halls as we made our way through the facility. A huge and heartfelt thanks to Damon, Hasan, Talia and the Sangera Subaru for supporting LLS and all the patients in our community.
---